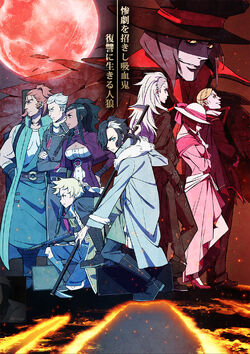 Sirius the Jaeger ( Japanese: 天狼シ リ ウ スSirius the Jaeger Hepburn: Tenrō Shiriusu Shiriusu za Yēgā) is a Japanese original anime television series produced by P.A.Works. The series is directed by Masahiro Ando and premiered on July 12, 2018.
Plot
[
]
Imperial Capital, 1930. A strange group of people carrying musical instrument cases landed on Tokyo station. They are called the "Jaegers", who came to hunt vampires. Amongst them, there stood a young man with striking serenity and unusual aura. His name is Yuliy, a Sirius whose home village was destroyed by vampires. Yuliy and the Jaegers engage in deadly battle over a mysterious holy arc only known as "The Ark of Sirius". What truth awaits them at the end…?
With eternal affinity and spiral of conspiracy entwine, the highly anticipated action-thriller anime begins!
Staff
[
]
Cast
[
]
Music
[
]
Episodes
[
]
| # | Title | Air Date |
| --- | --- | --- |
| 01 | The Revenant Howls in Darkness | July 12, 2018 |
| 02 | Deprived Talent | July 19, 2018 |
| 03 | Indelible Memories | July 26, 2018 |
| 04 | Beginning of Trickery | August 2, 2018 |
| 05 | The Frankenstein | August 9, 2018 |
| 06 | Mokingbird`s Song | August 16, 2018 |
| 07 | True Confession | August 23, 2018 |
| 08 | The Sanctuary of Sirius | August 30, 2018 |
| 09 | Father's Shadow | September 6, 2018 |
| 10 | Memories of the Abyss | September 13, 2018 |
| 11 | Calling in Blood | September 20, 2018 |
| 12 | The Ark of Sirius | September 27, 2018 |
Gallery
[
]
Trailers
[
]
External links
[
]